Website SEO Audit Services - Advanced SEO Audit Service Plan
Best website SEO audit services to get a complete overview of your website. Analyze your site from an Expert. A complete SEO audit plan at a reasonable cost.
SEO audit is a procedure for evaluating your website by comparing it with search engine ranking factors. Also, it helps to determine the site's strengths and weaknesses. The audit methodology will analyze your site in-depth and find any on-page, off-page, and speed performance issues. From there, you can understand why your site ranking is going down and how to improve it. Website SEO audit services identify issues and suggest new ideas to get a better results. 
Why is a website SEO Audit Important?
Proper SEO audits are necessary to help your site and business development: 
Find out about organic traffic due to site health issues 

Find out about sales opportunities or lose the competitive edge to other brands

To your site improperly indexing (meaning searchers can be able to find it) 

Reduce penalties from Google for bad backlinks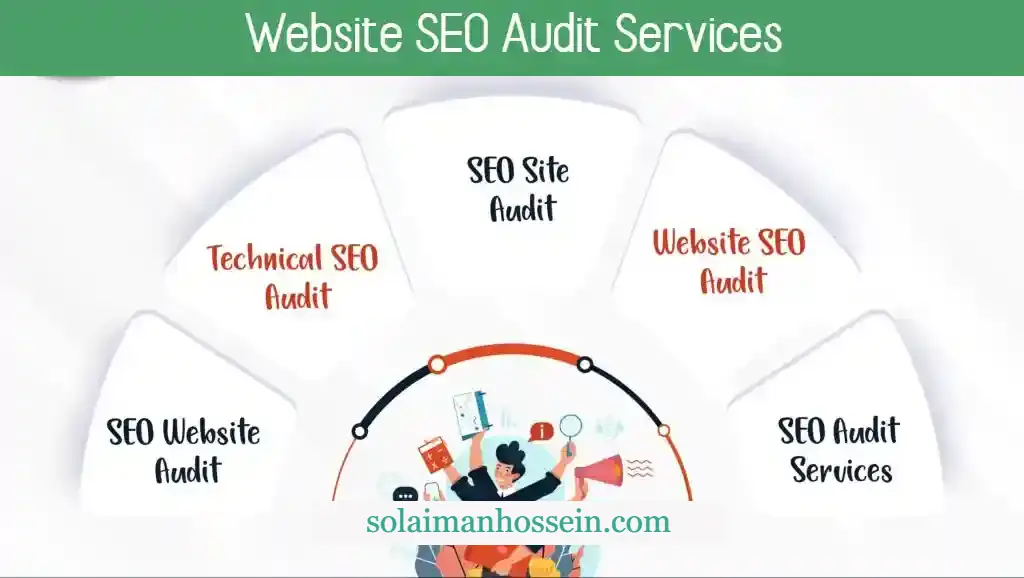 Website SEO audit services from top-level Expert
In order to highly rank your website you will need an SEO expert. As part of a complete SEO audit service, I will analyze your website's SEO results and weaknesses. Also, analyze Off-page errors, On-page results, Local SEO, Technical SEO, and the Speed of your website. Inspecting your pages' content structure and quality both. I will list out any optimization scopes and strategies for your on-site. And at last, you will get the audit report with a developed search engine optimization roadmap to use going forward.
Advanced SEO Audit Services for your Website
You will need an advanced SEO audit service when a website cannot place or starts to fall from the SERPs. Also, it is often because of a poor SEO strategy. My advanced SEO audit services will help you find website issues and resolve them.
For new or old websites, an SEO audit can assist your search engine optimization strategy going forward. I am a digital marketer and SEO expert in Bangladesh, have a stellar reputation as an SEO audit service provider. You can consult with me to reach your site at the top of the search engine result page.
Complete SEO Audit Plan with Professional Service
A complete SEO audit plan is done to analyze the overall performance of a website in comparison with the best methods. The intention is to find out the issues which may affect the performance of the Search Engine Result Page(SERP).
Important Factors are Considered when I Conducting Website Audits:
Competitor Analysis: This Analysis helps us to understand the SEO techniques of website competitor
Architecture Audit: Through an in-depth architecture audit, I realize the underlying potential of your website.
Technical SEO Audit: I audit the technical issues such as sitemap, robots.txt, and crawl performance of your website.
On-Page SEO Audit: On-Page SEO audit includes a focus keyword set, URL structure, title & meta tags, headings, and many more.
Off-Page SEO Audit: I audit your off-page SEO activities and provide suggestions to avoid any Google penalties.
Image and Video Optimization Audit: Optimized image & video reduces page load time on your website and ranks on SERPs 
SEO Content Audit: I audit the content quality and readability on your website and deliver suggestions
Site Speed Test: Site speed is now one of the important Google ranking factors. So, I remark some issue to improve website speed.
Backlink Audit: A backlink audit is a procedure of checking all of the links currently pointing to your website. Firstly, I will provide a list of locate them.
Local  SEO Audit: A complete local SEO audit must include a review and analysis of this information to identify and react to resilience, weaknesses, and opportunities.
eCommerce SEO Audit: An eCommerce SEO audit is about taking stock of your site's organic visibility and identifying areas that you need fixing or improving. 
User Experience Analysis: User Experience is a necessary audit to understand the organic search on the webpage
Google Search Console Overview: It is an important analysis of your site. So, I will sure provide you with Google Search Console results.
Why choose me as the best SEO audit expert?
Are you looking best SEO audit expert? You can choose me to get the perfect SEO audit report for your website. I am a professional and experienced SEO audit service provider. I can help you conduct a complete SEO Audit of your site to rank in search engines. And ensure the perfect SEO guideline with an audit report. As well as you will get the best website SEO audit service at an affordable cost.
To Get the Best Website SEO Audit Services