Website Maintenance Services - Best Website Maintenance Plan
WordPress Website maintenance services. Best maintenance plans for your business site. Make it easy to run your business with our web maintenance expert.
When a website is finalized and uploaded, you need to maintain that. Many people mistakenly believe that website maintenance mostly consists of correcting faults that appear after the site has been launched, but in fact, includes much more. Maintenance includes updating the website's visual branding, incorporating new systems and updates, and uploading new content. Your company's website serves as the public face of your company, therefore it must reflect the ever-changing environment in which it operates if you want to stay ahead of the competition.
Website maintenance is the important process of monitoring your website performance and updates. You need to timely check your website for errors and make sure that everything is responsive and completely updated. Also, help to analyze the search engine result of your site.
Why is Website Maintenance Important?
Your website is most often where potential customers look first, and they are also looking for reliable, accurate, and useful information. When this occurs, website maintenance is necessary. With frequent content updates, your website will draw and keep users while maintaining a good search ranking.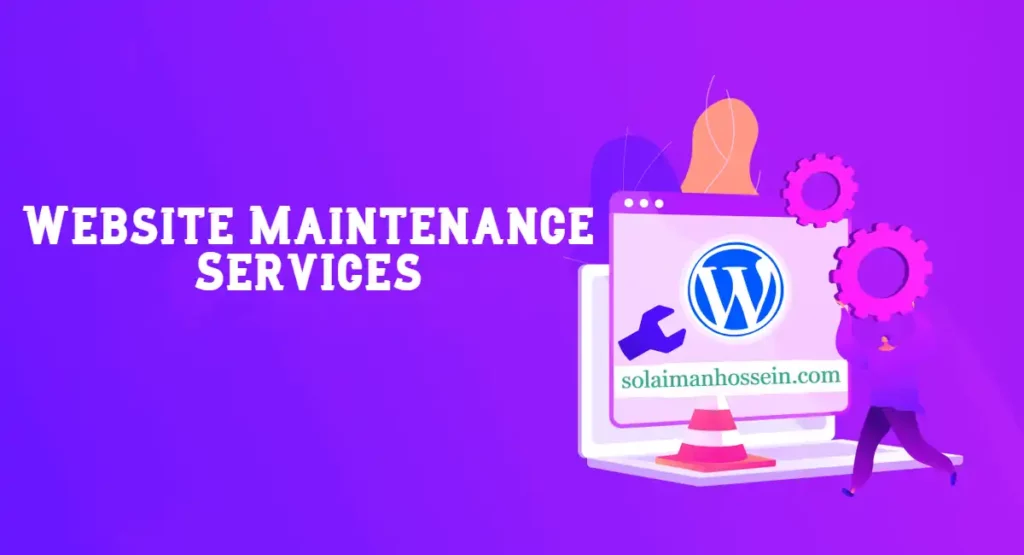 There are a ton of other reasons whole regularly update your website, such as:
Improves User Contentment
View your website through the eyes of a visitor. You will lose patience if the website loads slowly and has a lot of broken links. However, you will be pleased if the website is well-maintained, has good web design, and contains all the important information. After all, providing an outstanding customer experience ought to be your top priority. Your visitors will be astounded by a high-quality website, which will convince them to use your products and services. By suggesting your brand to their loved ones, they also become brand promoters.
Enhances Your SEO
Google favors websites with high-quality content and effective optimization. However, if your website's redirects are ineffective, your company's search engine ranking will suffer. In the event that Google inspects your website and discovers issues, you risk losing your indexing. The main purpose of your website is to draw people, thus maintaining it with useful data, news, keywords, and other information can help you stay current.
Enhances Protection
Nothing is more important than the security of your website, especially if it contains sensitive data. Software updates and security patches must be applied on a regular basis to maintain your website safe and secure. Hackers may be drawn to a website that hasn't been updated in a while. Additionally, long-term disregard for security vulnerabilities may result in downtime or even total business failure.
The Goal of Our Website Maintenance Services
The performance and security of your website are the major goals of our site maintenance services. You can see that there are more problems with cybersecurity. There isn't a day that goes by when businesses aren't attacked online. Most cyberattacks can occur as a result of errors in web maintenance services. You do not want to be a target of a cyber attack since hackers will hold your website's files hostage and demand a ransom. You'll even observe that client data can occasionally be easily taken. In order to secure your website and your business, we have structured our website maintenance packages into 5 components. Our company's website support services primarily target:
Technical Support Security Assistance

Recurrent Update

WordPress Upkeep

Management of content
Website Maintenance with Solaiman Hossein
After a website is launched, needs regular web maintenance. And need to avoid any technical problems, and enhance user experience. As well as make sure your site keeps a top ranking in search engine results pages (SERPs). Website upkeep might be maintenance.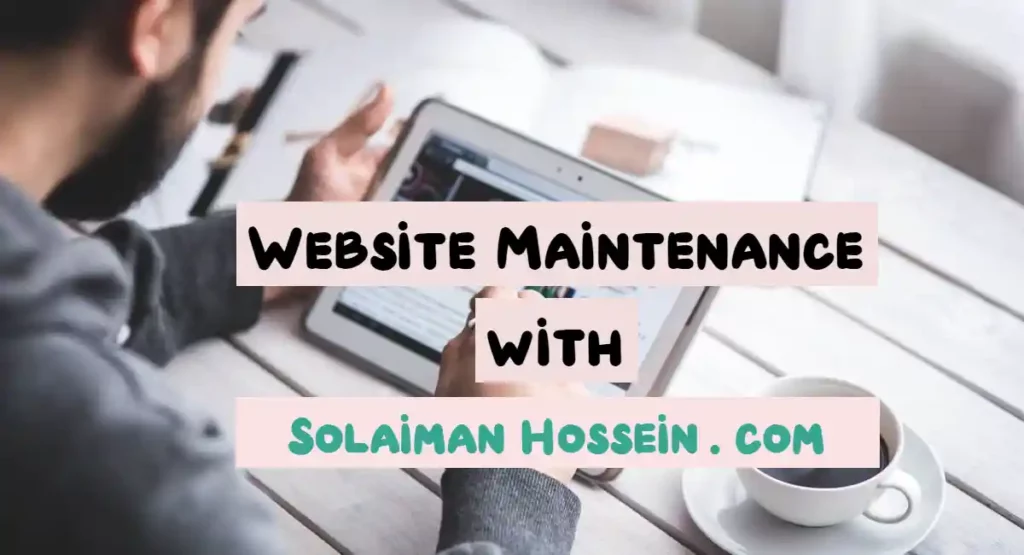 To maintain your site functioning properly. You should be aware of the following several types of website maintenance:
1 security updates
Web development companies offer security to address bugs in your program. Install them as soon as possible because they are essential to protecting your website from hackers.
2. Updates to plugins and themes
Need current website Extensions to your website's capabilities through plugins and themes. They must provide security and compatibility with the most recent web browsers.
3. Content revisions
To assure information, you must keep the material of your website up to date. It is accurate and pertinent for your website. This includes adding fresh blog entries, revising product descriptions, and getting rid of out-of-date material. Out-of-date material might make your website appear amateurish and turn visitors away.
4. Backup and disaster recovery
In case something goes wrong, we assist you in maintaining a recent backup of your website. It also facilitates speedy restoration and catastrophe recovery planning. In the event of a significant incident, maintain the website. 
5. Performance assessment and development
By monitoring the performance of your website, you may take measures to reduce its impact. It can help your website run faster and respond more quickly on the user end. It reduces the loading time of web pages, lowers the size of images, and minifies code.
6 Security Checks
You need to ensure the security checking to ensure that the site is safe from any unauthorized attacks. Regular checking can find the causes before their harm.
7. User administration
You must need to manage user accounts to check for unauthorized users. It can be required for creating and removing user accounts. As well as changing passwords, and controlling access.
8. Testing for accessibility
It's crucial to test your website's accessibility to make sure everyone can use it. This applies to those with disabilities, those who use mobile devices, and those whose internet connections are slow.
9. Uptime monitoring
Thanks to uptime monitoring, your website should be reachable when someone attempts to visit it. The uptime of your website should be maintained as close to 100% as feasible. In order to recover your website, you should be aware of when it is down.
10. SEO monitoring
Monitoring your website's SEO is essential if you want to ensure that it can be found in search results. This entails keeping an eye on your website's ranking, backlinks, and traffic. Using SEO monitoring, you can identify potential problems and take action to fix them. You can use it to gauge your success and monitor your long-term improvement.
11. Maintenance and support strategies
The easiest method to ensure that your website is constantly up to date is to sign up for a support and maintenance subscription. This form of membership usually includes all of the aforementioned services in addition to additional essential ones like web hosting, SSL certification, and email support.
Know more about Website maintenance services