Pay Per Click Management Services - Best PPC Ad Management
Pay Per Click Management Services with great experts at an affordable cost. PPC Ad management with several online platforms. Run Ads to reach targeted traffic.
Pay Per Click is the process of paid advertising on several online platforms. If you want to reach your content with targeted traffic in a short time, PPC ads are the best process. PPC is a form of online Pay Per Click advertising where is charged a fee each time one of their adverts is clicked. You will get targeted online traffic. Pay Per Click Management services are the gratitude for your business. PPC ads can help to increase sales of your product and services. 
PPC Ad management can be managed by text content, graphics, video content, or a combination of these. It has been applied to websites, social media platforms, search engines, and more.
In digital marketing strategy, PPC is a great way to reach the targeted audience. It is influenced by the online behaviors of your target audience. Perseverance of social media frequently. When you use our PPC management services, we don't only spend money on advertising to win your business. To avoid wasting any money, we first obtain the information we require.
Pay-Per-Click (PPC) management is the process of controlling and operating a company's PPC ad pay. This is an amazing strategy to reach your content with paying money. It also needs to management with specific requirements. One of the easiest ways to boost your product or service content is from paid advertising networks. It can be on several platforms like Google, Bing, Twitter, Facebook, Instagram, LinkedIn and many others.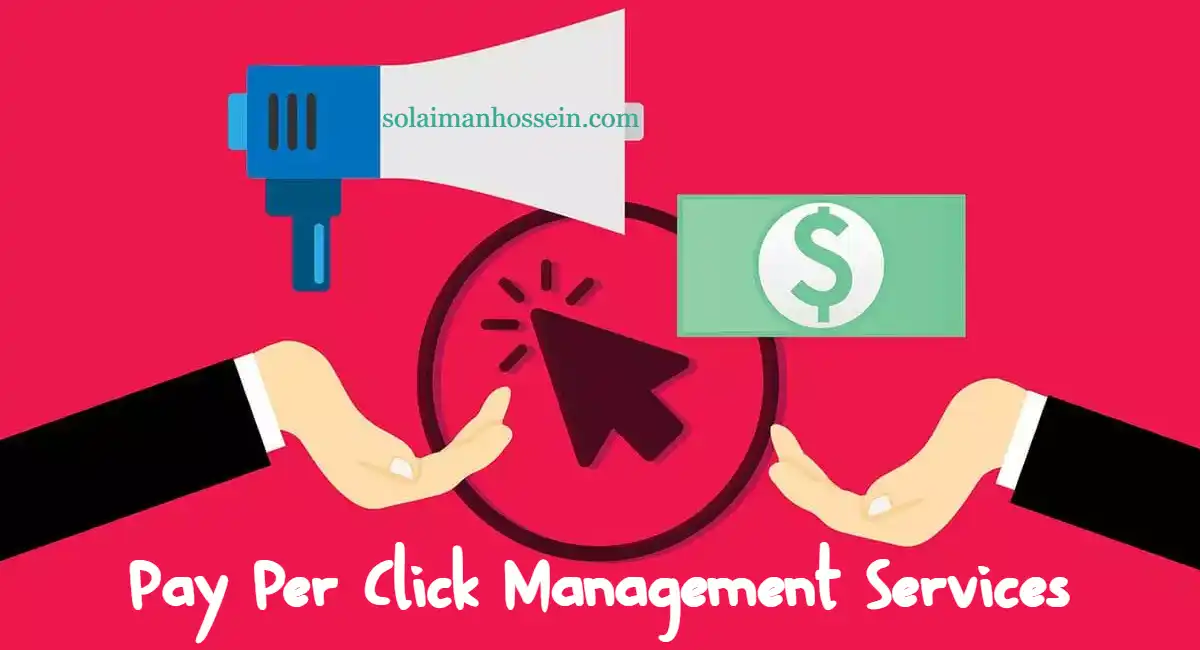 How does PPC advertising work?
Although PPC Ads determine differently on each platform the overall procedure is as follows:
Depending on your goal, pick the appropriate campaign type.

Rearrange your target and settings (audiences, devices, locations, schedule, etc.)

Add your budget and bidding plan.

Put your preferred URL (landing page).

Create your advertisement.
PPC Ads For Your Business
Are you prepared to boost conversions for the benefit of your revenue? The following are the primary benefits of using pay-per-click advertisements:
1. On-Demand Outcomes
One of the key advantages of employing PPC ads is this. Your ad will start running as soon as your campaign is set up. The key components are data and transparency. You can always know where your money is going from Solaiman Hossein.
2. Research and strategy creation
We will start doing extensive research to find the best plan of action after we have a firm grasp of your company and what you hope to accomplish. This involves studying competitors, doing keyword research, auditing the material, etc. Our team of professionals will create a distinctive SEO plan that is customized just for your SaaS business.
 3. Enhanced Brand Recognition
PPC advertisements aid in boosting brand awareness. Your ad will appear on the first page of search engine results pages, which promotes brand awareness. Potential clients will more easily recognize your brand as a result.
4. Reach Specific Targets
PPC advertisements give companies the ability to target particular demographic or keyword-based subgroups of potential clients. By focusing on clients who are more likely to be interested in your product or service, you may increase your conversion rate.
5. Consistent Traffic
PPC with Consistent Traffic can be a terrific approach for your company to generate leads and sales. It's crucial to keep in mind that it must fit within your overall growth trajectory. The necessary actions must be taken at the proper times and in the proper sequences.
6. Measurable Information and Openness
PPC marketing enables you to monitor your ROI. You can view both the number of people who have clicked on your advertisement and the number who have become paying clients. You may adjust your plan and enhance your outcomes over time with the use of this data.
7. Wide Variety of Channels
In addition to managing PPC ads on Google Ads, we also handle PPC campaigns on Facebook, Instagram, Snapchat, and LinkedIn. The ideal platform for your company will be chosen in collaboration with you. TikTok advertisements are for those who want to target a younger audience, whereas Facebook Ads are a terrific method to target potential customers based on interests, demographics, and habits.
What Are the Benefits of PPC Marketing?
Pay-per-click (PPC) advertising is a form of internet marketing where ads are displayed next to search engine results and on relevant websites. PPC adverts that appear on search engine results pages are frequently made to resemble the organic results of the search engine. Businesses only pay the publisher in this advertising strategy when their advertisements are clicked.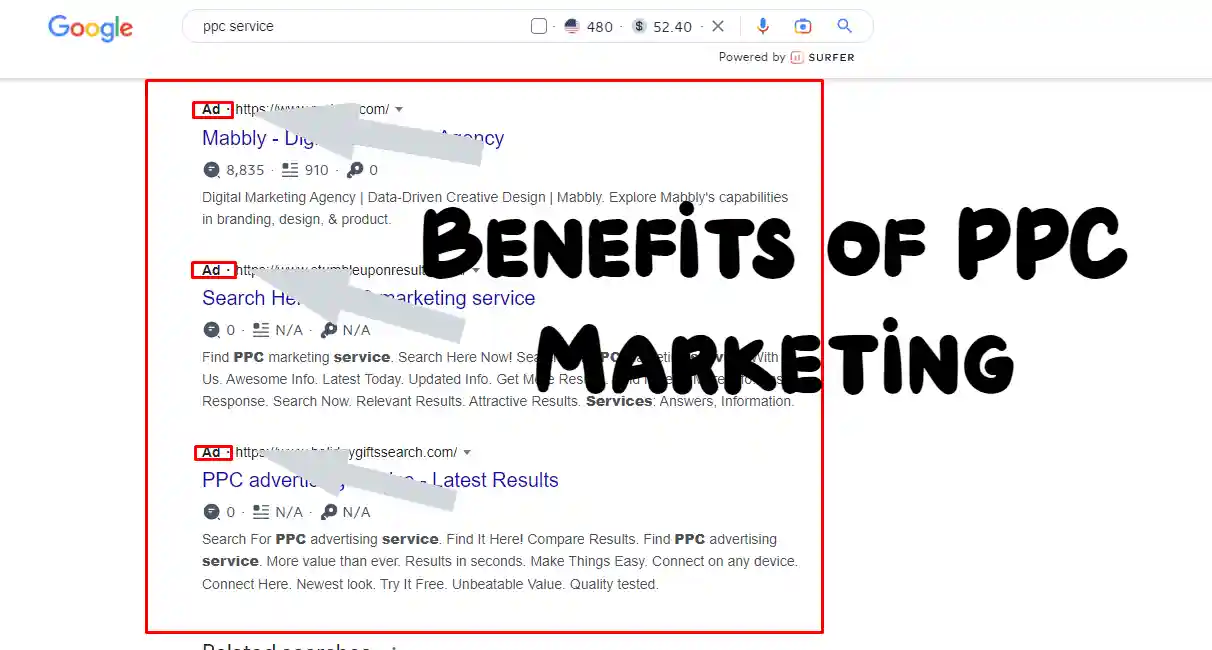 PPC Marketing services are used by a variety of firms in a wide range of industries to increase their exposure to online users. Businesses that want assurance that their advertising is economical occasionally utilize PPC. Because each click is logged and firms only pay when their ads are clicked, it is frequently easy to assess the PPC ads' cost-effectiveness. Businesses can use search engine optimization to boost their exposure online.
You can fixed target exactly the audience you want. 
It brings in better-qualified leads as a customer
You can grow your business short time
How Does PPC Advertising Help to Engage Traffic?
We need to be a little bit more detailed in order to grasp how PPC advertising helps to boost traffic.
PPC enables you to choose particular demographics, interests, and geographic areas of the audience you're aiming to target when it comes to the objective of increasing website traffic. This enables you to precisely target the audience you want to see your content for and better meet their demands.
Users are encouraged to click on your adverts since they are tailored to these groups' unique demands. Traffic naturally rises when this strategy is used by hundreds or even thousands of users. PPC management services are crucial to firms when it comes to generating traffic because of this.
How do Pay-Per-Click(PPC) Management services work?
You can get the following services from PPC  management. We also dandle the following options:
Keyword research: Looking at what keywords to target. Research the best keywords to use. Additionally, what search terms are being used to match them to PPC advertisements?

Competitor research: A thorough examination of the market and the methods that rivals are employing. This influences approach, targeting, and bidding.

Channel selection: An proficient will assist you in choosing the platform that is appropriate for your purposes, whether it be a PPC advertisement on a search engine, website, or social media channel.

Ad Copy Writing: Ensuring that advertising text is written intentionally. Determining the user's issue and providing a solution, then including it in the search advertisements.

Ongoing monitoring: It will be necessary to make adjustments to make sure that optimization occurs.

Negative match: Removing users that aren't likely to convert to improve ad spend optimization.

A/B testing: Comparing two different iterations of an advertisement to decide which is the most effective strategy for continued advertisements.
Best Process of PPC Ad Management
         Step1: Keyword Research
         Step2: Ad Copy
         Step3: Bidding
         Step4: Setup
         Step5: Budget Management
        Step6: Campaign Monitoring
Our PPC Campaign Management Service Include:
New campaign setup and creation

Ongoing ad copy creation

Ad extension management (site links, promotion extensions, product extensions, etc.)

Ongoing keyword research and refinement

Negative keyword expansion and cost savings

Ongoing bid management

Tactical planning and goal alignment (search, social, display, and video)

Budget management

A/B testing (ad copy, landing pages, bid strategies, etc.)

Demographic and Audience targeting and refinement

Detailed monthly reporting

Ongoing communication and account management

Data analysis and troubleshooting

Expert suggestions for scaling

PPC consulting
Why Hire Solaiman Hossein as Your PPC Management Services Provider?
As the best provider of PPC management services, we have helped our clients use PPC campaigns to increase reach, engagement, and focused traffic. Data, outcomes, and innovation are what motivate us. This has made it possible for us to conduct PPC and paid search campaigns with great focus, resulting in higher conversion rates with a reduced budget. In order to improve your ROI, we build PPC ads that are optimized for your company, for searchers, and for search engines. With the expert PPC services from Source Soft Solutions, you can be confident that you'll start receiving targeted leads and traffic right now.
Excellent Long Terms Results 

Better Results in Less Time 

PPC Services at Affordable Price

Control of Budget & Scheduling

Our Pricing is Always Transparent

Controlled Communication 

Increase Visibility, Increase Reach 

Geographically Targeted Ads

Deep Review of Analytics Data

Exceptional PPC Experts

Actionable Results, Guaranteed
Pay-Per-Click (PPC) Ad Management Services Offered
Our PPC management service performs at the following Ad platforms:
Google Ads
Instagram Ads
Google Shopping
LinkedIn Ads
Bing Advertising
Twitter Ads
Youtube Advertising
Facebook Ads
To Get more about our Pay Per Click Management Service