Google penalty recovery service - 100% Google penalty removal
Google penalty recovery service to get your site penalty removal fast. I ensure 100% removal of Google penalties with Panda & Penguin algorithms to rank sites on top in SERP
Google Penalty Recovery is important to ranking down sites. And the penalty removal company discovers your site's Google penalty removed very fastly· I'll help you not only recover your Google penalty but also rank the site. Our Google penalty recovery services will help your SEO ranking bounce back and get back on top. Our penalty recovery service always ensures the penalty problems by Google's Panda or Penguin algorithm or many others. 
A comprehensive range of factors can cause to drop down your website ranking and traffic suddenly. But penalties considered by Google are among the first things that I can know after auditing the site and analyzing the problem. Low-quality backlinks, hidden text, keyword-stuffed content, and more can misstep one of Google's penalties. 
I offer google penalty service assessment to identify on-page and off-page factors. As well as our Google penalty recovery services to help your site get back on track to regain traffic and rankings.
Google Penalty Recovery Services
Keeps your site blurred from Google look? Have your web rankings acknowledged a lot of urn and web traffic plunged to nothing? The response is specific – Google punished your site.
Google's faithful responsibility is to guarantee site consistency rules, with severe adherence to moral Website optimization rules included. There is a convention set up to punish site proprietors who defy the guidelines. On the off chance that a webpage neglects to observe website admin rules, regardless of whether deliberately, it could prompt Google's algorithmic penalties or manual support.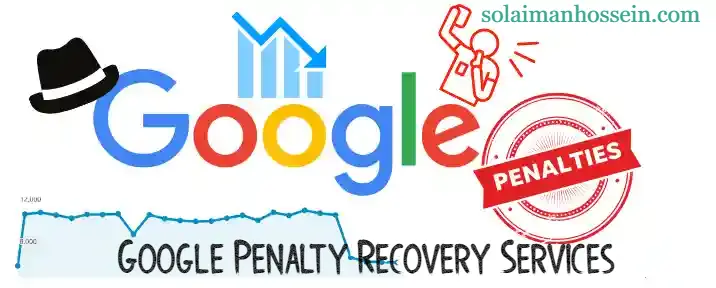 Specify What Penalty Hit Your Site come down - Penguin, Panda, and more
Google constantly changes its algorithms and filters to improve the bearing of search results to its users. There have a lot of Google ranking factors, but here have some specific factors when it comes to the main Google penalties of any site. Here's a summary:
Penguin is not technically a penalty; it's a filter that lessens spammy links that point back to your site. If your site rankings are being impacted by Penguin, I can help with this penalty recovery service.

Panda is an algorithmically used filter for on-site factors, such as low-quality content or large amounts of duplicate content on your site. In general, Panda gauges the quality of a site when deciding rankings.

Manual penalties are not charged automatically by humans. Google's web spam team produces the call on evaluating a manual penalty. Manual penalties can reach from Google noticing proof of involvement in link schemes. 
How to Avoid Google Penalties?
To forestall the Google penalty, carry on honestly: Utilize white cap Web optimization strategies just, further develop client experience on your site, and make it Web optimization cordial. If Google has previously given a penalty, reveal and eliminate the issues that set off the penalty.
I will help you lift and recuperate from both algorithmic and manual penalties, including:
Google Penguin penalties

Google manual sanctions for unnatural links

Google Panda penalties

Website hacks and virus infections
I will remove Google Penalties from your Website and Return on top of the SERP
Some steps I follow to help your site recover from the Google penalty of your site:
Develop a well-rounded SEO strategy to fix your score

, choose the steps required to recover the site from Google penalties, and explain what to do to correct all the errors. 

Manipulate SEO audit.

I determine exactly what penalties have been applied to your website. I need to look back at the entire history of SEO procedures on your site. I need to have access to your website analytics to find out what caused what happen with the site.

Fix errors.

I will analyze and improve the site structure, modify the content, solve technical errors, and improve usability.

A Complete Guideline

on how to optimize your website for future success.
How to Recover From Google Penalty?
Samples of how a Google Penalty impacts organic traffic and visitors, 1 – Google Penalty, 2 – Penalty Recovery (Ahrefs screen).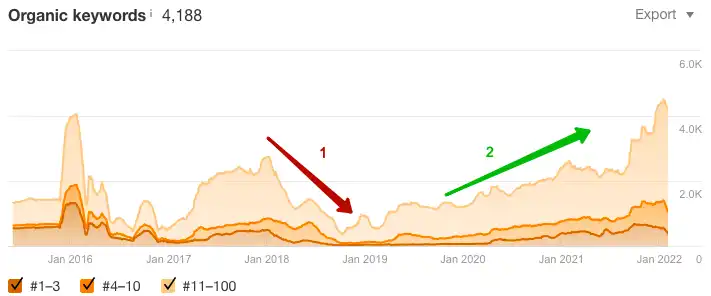 Samples of how a Google Penalty impacts organic keywords, 1 – Google Penalty, 2 – Penalty Recovery (Ahrefs screen).
I provide service for a website that has problems with search results: positions and traffic were lost suddenly. A penalty from the Google filter. I developed a long-term strategy to get the website out of the filter. I have fully fixed all technological problems and improved organic search.
The procedure of Google Penalty Recovery:
Audit ranking positions

Analysis Google Search Console and Analytics

Research history of the latest Google algorithm modifications

Off-page and On-page SEO audit

All post Content audit

Backlink profile audit

Fix SEO errors
Required Tools for Google Penalty Audit
Whether it's checking for poisonous connections or copied content, all center checks are done physically by our accomplished specialists. To smooth out and focus on the cycle, I truly do have an enormous assortment of devices in our removal. Some are in-house instruments explicitly created for the errand.
Screaming frog
Sem rush
Majestic SEO
Ahrefs
Why SOLAIMAN HOSSEIN is best for recovering the Google Penalty of Your Website?
Google penalty implies your site is either not generally recorded on query items, or that your positioning for your objective catchphrases has diminished. For instance, the site has been moved from the first to the second page on the query items page. Luckily, there are moves you can initiate to decide how, when, and why your site has been punished. Returning to a pre-penalty standing is incredibly troublesome, however, it is conceivable with SEO.
You will get my service as a
Google penalty recovery expert

Fully experienced in live work

Very affordable cost

Timely word responsibility

Regular update reports provide

Complete SEO service

24/7 free support
I will try my best to recover Google's penalties. I encourage you to look for proficient help in Web optimization. You will get full SEO service for your site. And it will be a great service to rank your site.
To Get the Best Google penalty recovery service