Ecommerce SEO Expert - Best eCommerce SEO Services
Ecommerce SEO Expert for online shops at all major platforms. You will get the best Ecommerce SEO service to grow your business in a short time. Fully SEO optimizes your eCommerce site and ranks on Search Engine result pages (SERP)
Why do eCommerce businesses need SEO?
SEO offers several advantages for websites in several companies. ECommerce businesses need to increase sales. eCommerce SEO, you can reach more qualified traffic very fastly. These are the online shoppers most likely to sell your product or service. As well as earn more revenue for your company.
eCommerce SEO Services for your online business
Are you looking best SEO services for growing online sales? Here you will get the best service with experienced and professional eCommerce SEO expert Solaiman Hossein. SEO Services for Ecommerce with proper statistics.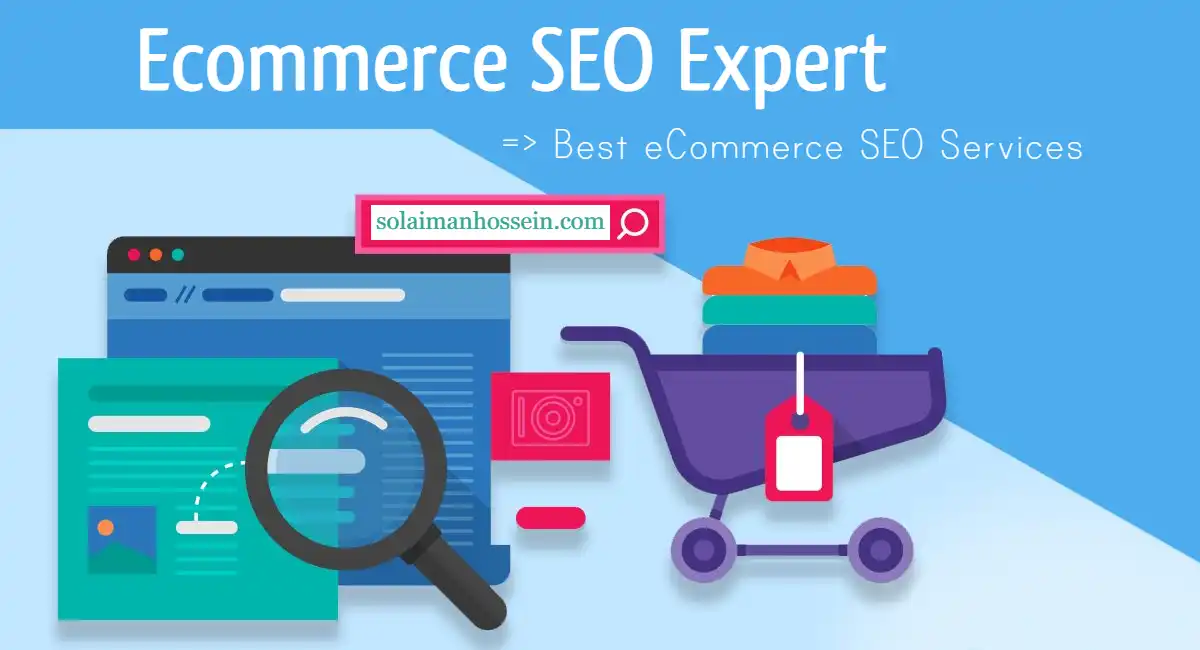 Our Ecommerce SEO Solution
I have a complete method for eCommerce SEO tailored to your business goals and industry. Also, it customizes services to satisfy the challenges delivered by competitors. I am ready to boost your eCommerce site and increase sales.
On-Page SEO
Technical SEO requirements

Ecommerce Platform Analysis

Extensive Keyword Research

Product Page Optimizations

Content Creation

Schema Markup Strategies
Off-Page SEO
Domain Authority Improvement

Authoritative Link Building

High-Quality Link Standards

Journalist / Blogger Outreach

Digital Asset & Content Marketing

Competitor Profile Targeting
Reporting & Analytics
Digital Public Relations

Domain Authority Improvement

Google Business Profile Setup

Google Business Profile Posting

Local Listing Management

Bing Local Setup / Optimization
Online Store Optimization by SEO
The SEO-optimized site always ranks on google very fastly. It will be cost-effective. If you can optimize your site with an SEO expert, it will get organic visitors. As well as you will get targeted buyers for your product. Online shops encouraged buy-watchful customers to your product pages by customized on-page SEO strategies for eCommerce.
Website Structure Optimization: I analyze your entire website to ensure an amazing user interface for visitors smoothly engage. 
In-Market Site Research: I conduct competitor research focused on the rated seller. That brings in more serious customers to your website.
Multi-Platform Work: If you have an eCommerce website with any existing platform, I have experience with Shopify, Magento, Bigcommerce, Volusion, and more.
Complete SEO Reporting for any Ecommerce site
Keyword Overview:

I will provide you with a complete file for a ranking keyword or the possibility to rank.

Link Building Report:

You will get a monthly report detailing every link we've built for your site.

Integrated Analytics Report:

Google search console and analytics report will get to track the overall impact of my work on your website.
My eCommerce SEO Strategy
My fully-managed eCommerce SEO service consists of three different steps of work; Site SEO Audit, Strategy Development, and Marketing. Every feature is very necessary for any eCommerce site rank.
At first, I will conduct a full site SEO audit of your eCommerce website to identify and fix most if not all of the on-page SEO issues. You can be containing your site from reaching the top of the result page. My eCommerce SEO audits are planned to evaluate and fix the following issues:
Web Page Errors, Redirects issues, Robots.txt, Malware problem
Missing or Duplicate Page Titles and meta descriptions
Low or Duplicate Content, Canonicalization, Topical Focus Issues
Broken links, missing anchors and Alt texts, improper use of "no follow" tags.
Broken images, missing title, and Alt text.
Missing, duplicated headers, Schema.org microdata implementation.
eCommerce SEO Strategy Development
The eCommerce Marketing Research helps identify who your target audiences are and what they search for when looking for your products online.
By conducting this analysis we can better understand which queries are most likely being performed by searchers who are further down in their decision-making process and are closer to making a purchase.
Research and analysis of your target customer
Analysis of customer-targeted purpose of search and decision-making process
Targeted Keyword planning, analysis, and placing the best keywords on every single page
High-quality content to com competitive analysis for content topics
CUSTOMER CONVERSION RATES
Historic data analysis, implementation of best practices to the progress of your business
An eCommerce optimization strategy is developed to increase your website's overall authority which helps in gaining higher rankings for appropriate keywords and therefore driving targeted traffic to your website. When your website is completely optimized and fulfilled the on-page SEO strategy then eCommerce SEO marketing will be the best practice.
CONTENT DEVELOPMENT

BRAND BUILDING

ESTABLISHING EXPERTISE

CONTENT MARKETING

E-COMMERCE CONVERSION RATE OPTIMIZATION

E-COMMERCE CONVERSION TRACKING

ONGOING TECHNICAL E-COMMERCE AUDITS

GOOGLE SEARCH CONSOLE MONITORING

KEYWORD RANK MONITORING
SEO Expert For Ecommerce - Solaiman Hossein
Ecommerce SEO is also the search engine optimization online shopping website. Optimization rank above keywords, and content by analyzing competitors. E-commerce websites have some difficulties and extra issues. As an eCommerce SEO expert has more than 10 years of experience on several business sites.
Google-certified SEO Expert
Experienced in several live projects
Fully skilled in SEO
Dedicated on work
Why You Should Hire Me As an eCommerce SEO Expert?
If you are looking best eCommerce SEO service, hire me to get the best performance. Perfect Ecommerce SEO service with short-time results. I am a professional and experienced eCommerce SEO service provider. I can help you conduct a complete SEO of your eCommerce site to rank in search engines. And ensure the perfect SEO guideline with a report at a cheap cost.
To Get the Best Ecommerce SEO Services